Wow, it has been a busy past few weeks at Communicator HQ but I am glad to introduce collaborator and guest DJ interviews! Chicago has some great selectors tucked away under every corner and that is no exaggeration. That's one of the reasons why I love this city and our rich DJ and musical culture.

I first met Tina Johnson aka Funky Mama at Harbee's Tavern on 18th street for a Friday night monthly that was called 'The Chitlin Circuit'. I knew DJ Darryn was a resident on that night and anyone who loves funky music knows DJ Darryn's box (of records) goes deep, so I didn't hesitate to walk my happy ass down there all the way from Roosevelt and Ashland. Once I got in I saw a slender woman playing some super jams on the turntables, record after record the music was on point. I had walked in alone so I sat at the end of the bar at the stool closest to the DJ booth. I couldn't stop chair dancing and after a few IPAs I didn't give a shit who was around, I was dancing. That scene lasted for most of the night but when Tina's set was over and Dave Maze took over I went up to Tina to introduce myself and thank her for the music. She was such a kind and happy person that we hit it off and have kept in touch ever since.

Tina is a true record digger, a "DJs DJ" and Tuesday April 2nd will be the second time I have asked her to Basement Boogie, which happens every first Thursday of each month. Here is the Facebook event page so you can RSVP.

We recently sat down to talk music, records, DJing, Chicago and her musical upbringing so you can get familiar with this funky, funky DJ from Chicago…
Jerry: Hi, Tina what part of town are you from?
I'm from the north side of Chicago originally but right now I am from the south side.
Oh I didn't know that what part of the north side did you grow up?
Primarily downtown like off the gold coast area like off the Rush street area. Dearborn and Goethe or "Gur-tah" like they pronounce it. Haha. Went to Lincoln Park High School and went to Evanston Township for a moment so I'm north side.
Were you born and raised in the city?
Yes, born and raised. I did live in Mississippi for a couple of years for like the 6th and 7th grade but I am from CHICAGO. South-sider now for the last twenty years.
What are some of your earliest musical memories?
Actually, hanging out with my mother. She used to take me to Dingbats by McClurg Court over by Northwestern Hospital. They used to have little parties there, little kiddy cocktails and they used to do The Electric Slide, The Bus Stop whatever they called it back then, so I was hanging out with my mother and I was about 6 years old, she was taking me to the parties and going to The Brasserie which was down on Michigan Avenue and Ohio. That was another after-work spot that my mother would go to. When I was in the 1st grade I had this transportation system that would drop me off at her job down on Michigan Avenue after school and on a Friday night her and her friends would meet up and go across the street to this place called The Brasserie, and it was like I guess what we call now a bar and grill so since I was there we'd go there and they'd let me in and they'd meet me on the dance floor and I'm having my little kiddy cocktails and goldfish at six years old listening to my favorite songs so I've been partying a long time! [laughs]
So Dingbats was basically a bar and grill?
It wasn't a bar and grill it was actually a club and Mr. T used to bounce there, actually. It was a club and they would have things there for kids. This was like 1976; I was six.
Oh wow! When did you realize you wanted to be a DJ and what would you say influenced that wish?
You know what? Honestly, I'm a newcomer to this, I knew I loved music so what had happened was I was helping coordinate weddings, parties and stuff and I realized I was good at it. You know I'm like "Hm, I'm good at throwin parties." and I would put the music together but I still didn't have a clue that I wanted to be a DJ, I just really didn't. So basically, this is how it turned out-I threw the parties first and then eventually I went on just hanging around a whole bunch of DJs basically trying to know my business you know cause if I'm throwin' parties I'm gonna have to know exactly what they're doing so that's pretty much how it happened. It hasn't been long, about at least 5 years now. At least the DJing part but throwing the parties is what I was and still am primarily known for.
How far back did you get started in that?
Well more recently with the house music / B-side community just ten years but before that just sporadically. It's been a long time, I'd say maybe fifteen, twenty years.
For people that aren't familiar with that term, what is "b-side"?
Please DJ's, forgive me if I don't say it correctly: B-Side is basically the other side of the record that people didn't listen to or they didn't play on the radio. I think b-side and rare grooves are of course the ones that didn't get played or are hard to find or collect so that's the kind of music that I like to play and I look for and it can be a very expensive habit, AND it's on vinyl, of course that doesn't help! [laughs]
What were some of the first records that you ever owned?
Well, I could tell you the first 8 track I owned, was it D-Trane? My memory is so bad; it was D-Trane, Michael Jackson's sister Latoyah, she had something, ugh I can't remember the name but she had something but it was definitely the 8-tracks first and then my first records were Michael Jackson's 'Off The Wall', I was about nine, and then The Gap Band 'You Dropped a Bomb on Me' [laughs] I think that was about '79.
What advice would you give to someone today who has decided they want learn the craft and become a DJ?
I would definitely tell them to get off into learning vinyl playing turntables first because that's what all the really skillful DJs told me they were like 'you know you get to know the drum beats better and you try to make the blends' so I would tell them to start off on vinyl. Disco is hard [to blend], it has a lot of drumbeats in it so you get to know your music better as far as matching beats and all of that with the vinyl... and Disco.
Do you have some favorite memories from a time out when a DJ was spinning or you were?
Well of course everybody knows my favorite DJ is DJ Darryn. He's the one that mostly inspired me to go into b-side/rare groove so he's definitely someone I've had spin pretty much for every event that I've ever done. I just love him, love him to pieces, he's the greatest. But I like Jerry, Jerry too! [laughs] (Aww. -JR). As far as myself spinning I've had quite a few but I think the best one really was with Constance K. when we did an event at what's that loft on Milwaukee? Oh Multikulti! Yeah, that was one of my favorites.
How long ago was that?
About a year, maybe about a year or two ago. That was just the best for me because it was a mixture of everybody, you had the different ethnic backgrounds, you had the different age groups and I guess what I loved about that is-I was a little nervous about it because I was a little older than most of 'em and they were used to listenin' to whatever they listen to now and when I got on it was just like they circled around me, I felt like a star and they were lovin' me and the party began—I felt from what my observation was—no disrespect to the other DJs but the party got started when I got on. So that was one of my favorite nights spinnin'.
What songs or tracks define Chicago to you?
House Music. I'm very bad at names of songs and artists but Chicago is definitely a House Music town, other than Stepping. Yeah, Stepping and House, we're on the map for that.
Are there certain records or songs though that when you hear them you think "this embodies Chicago for me"?
I'm so bad at the names of the songs, I could tell you the beats but I'm not gonna sing 'em right now. I love the slam-dance songs, you know like Acid Trax by Phuture, I like that cause I'm a dancer also. I like to dance hard so I like that hardcore slam-dance type House music. Otherwise I'm more traditional when I DO go to House Music parties I still like Dr. Love, that gets me goin' and there's quite a few more out there that always do it for me.
What's the best thing about Chicago for DJs or people looking to become one?
I think the best thing is that Chicago is the mecca for DJs it's like there's nothing but DJs in Chicago. I didn't realize it until my own observation and then just listening to other DJs that travel like the Sadars and Rahaans. They definitely say that Chicago is the mecca of DJs and I don't care what type of genre of music you're playing, Chicago is a DJ town so you're in the right town if you want to learn how to be a DJ. You can eenie-meenie-miney-mo any DJ here in Chicago and they'll teach you, and they'll love to do it. It's something you gotta be passionate about though.
What would you say to those who criticize DJs who play a lot of older music and genres of decades passed?
Speaking from experience that's mostly what I play so it bothers me but not as much as it used to. What I was starting to find out was that the people that were criticizing me were, ugh, I hate to use the word because it's so immature, "hating" or jealous because it was something I think they were scared to do and they didn't wanna test it out with their own audience so they found it easier to talk about what we play cause it was older but they were really more interested in it rather than just having said "Hey y'know what? Why don't you school me on it?" I like playing the older music cause those are the original songs, they're funkier, and even with the Hip-Hop artists, it's what they use for their samples but I would just rather play the original songs, in their entirety.
What do you aim to accomplish and give the listener when you play?
You know what? I definitely wanna make them dance and happy and just make sure they had a great time. I can't please everybody all the time but I definitely want them to leave excited and wanting more.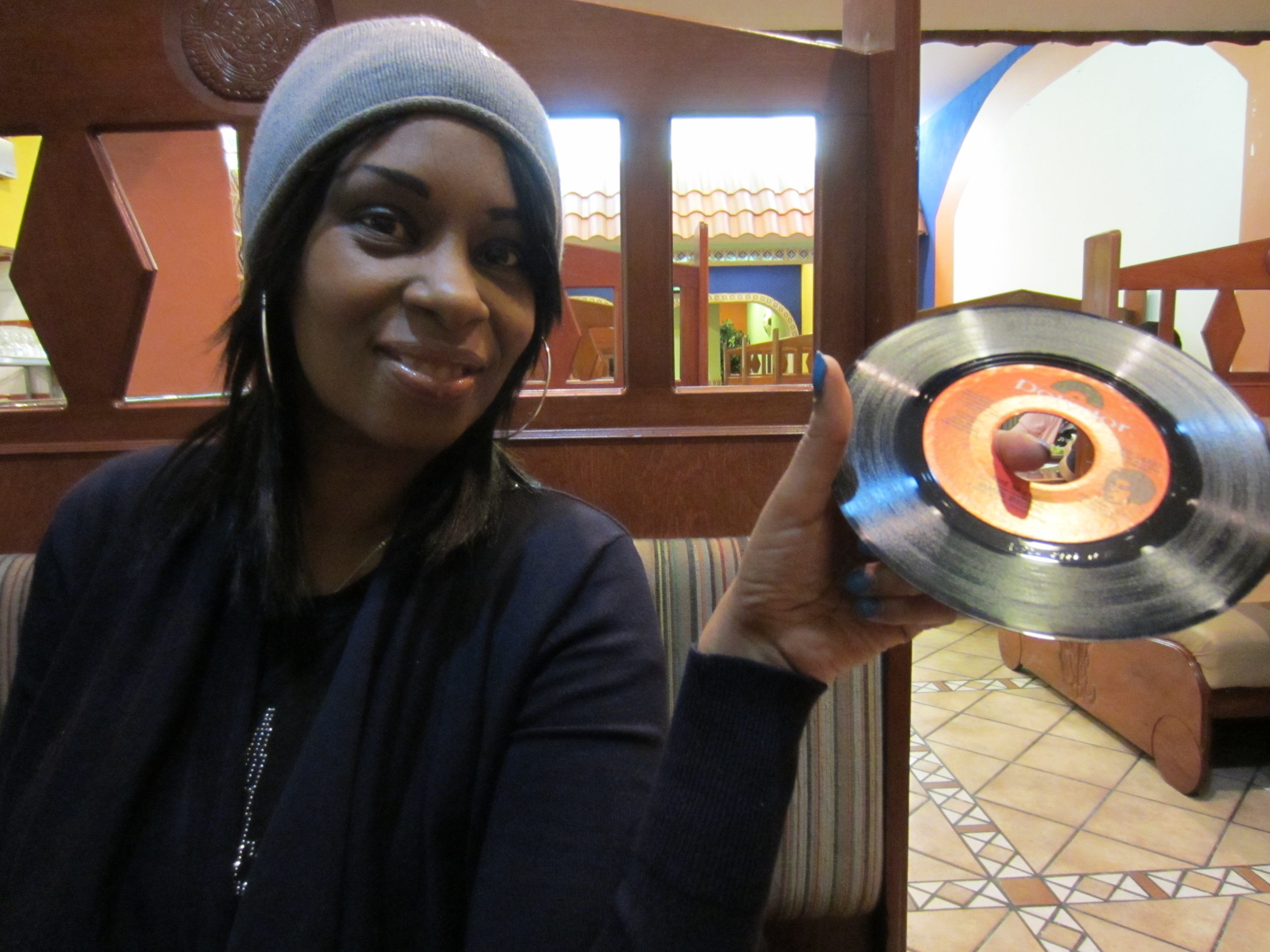 Talk about the five records that are in some way significant to you.
Well I brought five. I didn't bring out my best, best heavy hitters but I just brought out what I consider my more commercial type sounds that everyone's familiar with. Okay first I'm starting out with my James Brown because he's just awesome. He gets the floor moving, y'know I don't care what generation you're from, everybody loves James Brown. It's just good dance, it's all original music, I love it. And that's the thing, I love original music. I'm not a big fan of computerized music.
Like I said I'm just going though the more popular people that inspire me. I like Melba Moore. I love her style, I love her voice, she can be funky, she can be sexy. Those are my greater influences and guides I guess when I'm looking for music. Most of these songs that I brought I'm trying to go along the basis of these people. Like I said, James Brown, Melba Moore, then I like The Pointer Sisters. People aren't really up on The Pointer Sisters. They have so much good, funky dance type music. It's some of the really simple stuff. People are like "Oh I have that album!" I'm like "Yeah but you keep playing the same song. You should listen to the other songs". Particularly on the Pointer Sisters albums, I think they're just awesome. There are some dance floor killers on some of these commercial cats.
And then, y'know, I'm a die-hard fan of Donna Summer. I was raised on Donna Summer and I actually cried when she died. Donna Summer is... just sexiness. In my music I try to use sexiness also and to me she is what sexiness is all about when you're playing our style of music b-side, rare grooves, disco, whatever, she's just the epitome of all of it, all of this, I think. I could be wrong, but that's my take on it. Moving on… El Rego. This is just an example but I love Afrobeat, it's definitely another floor-killer. I try to use a lot of Afrobeat in my sets. It's basically a combination of Afrobeat's sexiness, where you're gonna feel like you're having an out of body experience. To go back to your other question, about what I want my party-goers to feel when I'm spinning.
When you hear a tune, what makes you decide that you need to have that certain record, that you absolutely must possess it?
Hopefully if I've heard it but sometimes even if someone told me about it, like DJ Darryn, he is just my ultimate favorite so he inspires me but to answer your question, I'm a dancer. So, if I hear a song and I'm like boppin' my head or I just all of a sudden dance I'm like okay, this is what I'm playin. This is how I pick my music, if I feel I gotta dance. And there's some people I imagine in my head also when I'm deciding to buy certain songs, for example Jarvis, I'm like "I think Jarvis would dance off of this!" or Miss Priss, I'm thinking of all my dancers, Monlade, Cat, Assata, Larissa, Tracy King, Dorie Greer, Emir; I'm trying to think of my all dancers so I'm sorry if I left anyone out. I think of these people when I'm buying music like "Okay, this is something they'll dance to".
What can people expect from you at Basement Boogie on April 2nd?
Oh they're gonna experience sexiness, I'm telling you it's gonna be all about the out of body experience and if they're not familiar with it then they're gonna WANNA get familiar with it when I finish with them.
Any closing words?
First of all, thank you Jerry for having me, I'm so excited. Thank you so much for looking out for the women because in this DJ world it's hard for women, especially the rare grooves DJs like myself, DJ Erica Kane, Constance K., Zsa Zsa, there's quite a few of us, Amir. Because we don't get our chances, unless we're throwing the parties, putting it together ourselves we don't too much have the guys voluntarily just ask us to come out."
There you have it. It has always been my pleasure to work with a rotating cast of women DJs for Basement Boogie and they have never disappointed. Women can bring the heat just as any man can.
See you on the dance floor April 2nd at:
Punch House
1227 W 18th St, Chicago, IL 60608
9PM-2AM, 21+, FREE
Set times are: Jerry 9-10, Tina 10-11:30, Jerry 11:30-12, Tina 12-1, Jerry 1-2
Listen to and follow TJ Funky Mama on Soundcloud.
Last thing: Subscribe to my newsletter below so you can be notified of live mixes to be recorded at Basement Boogie if equipment allows, as well as future news, events, guests, free mixes and other goodies.